J.P.'s Alleweder site
Alleweder and Smart car
A not totally serious comparison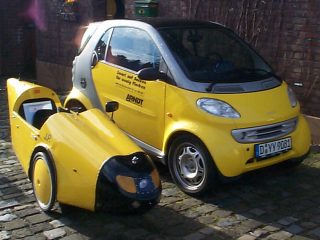 Alleweder and Smart both claim to represent an unconventional and innovative mobility concept. So it's ovious to make a comparison. We compare an Alleweder A2v21, built in 1995, with a Smart cdi, built in 2000.
Appearance: Both vehicles are colored in elegant yellow, silver and black.
Dimensions: The Alleweder is slightly longer than the Smart, but less than half as wide. Therefore it is much more agile in the city traffic.
Capacity: The Smart offers room for 2 people, the Alleweder is designed only for one. The Smart has a bigger baggage hold. Both vehicles cannot pull a trailer ex works, but can be upgraded with a coupling.
Consumption: The Alleweder with its 2,4 l apple spritzer on 100 km has an obvious lead over the Smart cdi with 3,9 l diesel.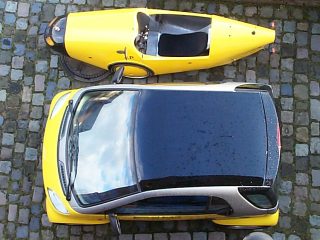 Speed: The Smart has a maximum speed of 85 mph, the Alleweder only gets up to 15 - 28 mph (depending on the driver). The Smart has 6 gears, the Allweder is equipped with 21 gears (Sachs 3 x 7). Driving the Alleweder, gear changes work smoothly and with constant power, whereas the Smart needs long interruptions while gearing.
Comfort: Both vehicles have full suspension. The Smart has a more convincing weather protection (totally closed passenger compartment). The Alleweder has more cultivated road performances (very quiet even at maximum speed).
Total costs (in year 2000): Alleweder: about 3500 - 5000 DM, Smart: about 16000 - 20000 DM. Operating costs of the Smart (tax, insurance, fuel, rapairs) are minimized or non-existant regarding the Alleweder. The Alleweder is much cheaper than the Smart considering purchase as well as maintenance.
All in all the Smart is more suitable for longer trips made with two persons. The Alleweder fits for short mid-range distances in urban areas. As a "sports car" in a literally meaning, the Alleweder remains non-negotiable.