J.P.'s Alleweder site
Alleweder Links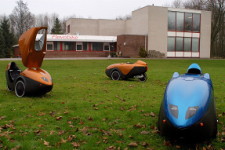 At first of course the Homepage of Flevobike. Out of the dutch town of Dronten they delivered almost 500 Alleweder from 1992 till 2000, most of them as construction kits. Today Flevobike focuses on the construction of other interesting bicycles and does not produce any more Alleweders.
The actual versions of the Alleweder is now produced by Alligt. As Flevobike, Alligt has its seat in the dutch town of Dronten.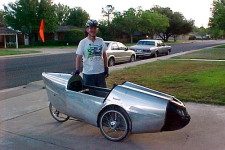 Fortunately the "classic" Alleweder A2 is still available, too. David Eggleston of velomobileusa.com is selling them in the USA.
The Alleweder is the origin of the development of many other HPV's. The Quest and the Mango are direct descendants of the Alleweder, they are made of plastic and are delivered by velomobiel.nl. velomobiel.nl also has it's seat at Dronten, as a neighbour of Alligt.
In Germany, the company Lohmeyer Leichtfahrzeuge is the sales partner for the Alleweder A4 - A6. They also offer the Alleweder with an additional electric drive.
Ligfietsshop Tempelman is a bicicle shop located - guess where - in Dronten, Netherlands. They have a wide assortment of HPVs and velomobiles, amongst other things the Versatile and the Alligt Alleweder A4.
Andreas Ihl wrote some interesting information about his two Alleweders.
Gerrit Polder from the Netherlands has put detailed photos of the assembling of his Alleweder on the web.
www.agri-vision.nl/CMS/index.php?option=com_rsgallery2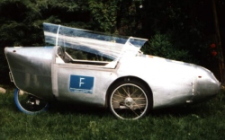 Lorenz Steinbock has found a good compromise between weather protection and sufficient air conditioning. His Alleweder has a cover which is open at the sides.
The International Human Powered Vehicle Association is the worldwide organization for human powered vehicles, boats and aircrafts.